Blogging about Jiu Jitsu has become one of my favorite things to do. I've stated in other areas of this blog that I started it as a way for me to keep track of all the internet links I was finding, and all the stuff I was learning on my jiu jitsu journey. It's evolved to be more than that at this point though. It's truly become a labor of love.
Anytime I learn something new that I think could help my jiu jitsu I try to document it here. Whether it's a new way of eating, a different way of working out, details about moves that I hadn't known before, or just sharing cool videos I found online, I write that stuff in this blog. This blog has become like an online jiu jitsu diary, that I get to share with all of you.
In addition to being a good way to catalog information about jiu jitsu, blogging can also earn a little extra cash, through affiliate links or advertising fees. It does cost a little bit of money to run a blog, so if it's possible to recoup some of those fees via affiliate links it certainly helps to keep the blog running.
It's pretty interesting to read some of the income reports listed on other blogs. The amount of money that blogs can earn varies wildly, but here are some fun figures from some of the more popular blogs:
Monthly Income Reports of Popular Blogs
Of course those are some of the big hitters. Most blogs are lucky to make any money at all. But with dedication you can earn some cash to help offset the cost of running the blog, and maybe make some extra on the side.
Since starting this blog, I've had a lot of people ask me how I did it. There seems to be a lot of interest that others have in wanting to start a jiu jitsu blog themselves. I think it's a great idea. As stated above, I think it's an elegant way to document things you learn, and share it with other people. Hopefully all this sharing leads to more collaboration as well.
In order to help others get started with blogging about jiu jitsu, I thought it would be worthwhile to write an article about how I got WordPress set up to run bjjmatrat.com.
So let's explore how easy it is to get started blogging.
Picking a Niche
Most people who start a blog have the hard task of picking a niche that they are passionate about in the beginning. If you're at this blog then chances are your niche is already decided. You're likely a jiu jitsu/MMA enthusiast, and probably spending hours online researching, learning and curating your own notes and lists of links outside of a blog. With that in mind, you would just need to decide what kind of material you want to write about. Are you interested in documenting your jiu jitsu progress? Do you want to dive into the world of fitness and nutrition as it applies to jiu jitsu? How about keeping track of the tournament world and writing about that? It's really endless the things you can write about on a jiu jitsu blog. Once you have a niche, you just have to decide on the name of your blog, choose a domain name, and set up WordPress on a hosting provider.
Click here to get a blog started on Interserver. User Coupon Code: "SAVEBIG" to get your first month of hosting for $.01
How To Start a WordPress Blog on Interserver
Interserver is an excellent hosting provider to host your blog on. If you're new to blogging you may not know what a hosting provider does. A hosting provider is a company that hosts your WordPress blog on their servers so the world can read it. There are many good hosting providers out there, but I personally like Interserver. I've tried a half dozen or so hosting providers over my years of blogging, and Interserver has been the best for site performance. Interserver has also had the best customer service that I've seen so far, and to me that's the most important thing to look for in a hosting provider. Their support staff has always been very prompt in responding to and resolving issues.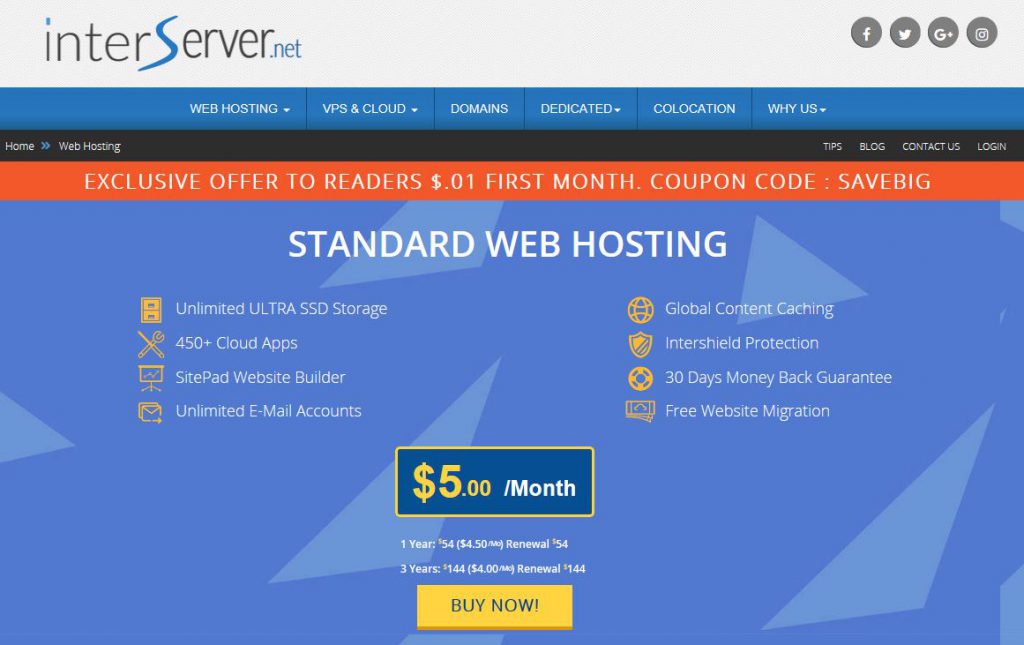 1. Register Your Domain Name
The first step in setting up your WordPress blog on Interserver is to register your domain name. Your domain name is the address that people type into the browser to get to your site, so make sure to pick one that fits the name of your site, isn't too long, and is easy to remember.
Currently at Interserver you can get a domain for $1.99 for the first year when you also purchase a web hosting package.

2. Buy Hosting from Interserver
The next step is to choose a hosting package from Interserver. If you're new to blogging, then chances are a standard shared web-hosting plan is all you'll need to get started. Hosting at Interserver is cheap, only $5.00 a month (with the first month for $.01 if you use the coupon code "SAVEBIG"). There's a lot of technical jargon on Interserver's site about their hosting packages, but here are the important parts if you're just getting started:
Buying a basic hosting package gives you a simple tool to install WordPress on your new domain.
Unlimited storage space.
Unlimited data transfer.
Free CDN (this becomes important as you optimize your wordpress site).
Weekly backups.
Unlimited Email Addresses.
Control Panel access to manage your site.
You might be asking yourself "Why pay for hosting when you can sign up for a blog for free?" Well, there are actually many reasons to pay for hosting rather than go for a free a blogging platform. For starters a free blogging platform is less professional, and advertisers may be reluctant to work with you because of that. Also, since it's a free platform, you may suffer performance issues once you've reached just a small number of readers. I've even heard stories of people's blogs being deleted by their free hosting service. Better to start off with a paid hosting plan right away. It's more scalable, so when your blog grows, your hosting can grow with it.
3. Install WordPress
Interserver makes it easy to install WordPress on your site. They use a piece of software called Softaculous to handle all the installation and set up for you. Once you have your hosting package purchased, you simply follow these steps:
a) Log into cPanel and choose Softaculous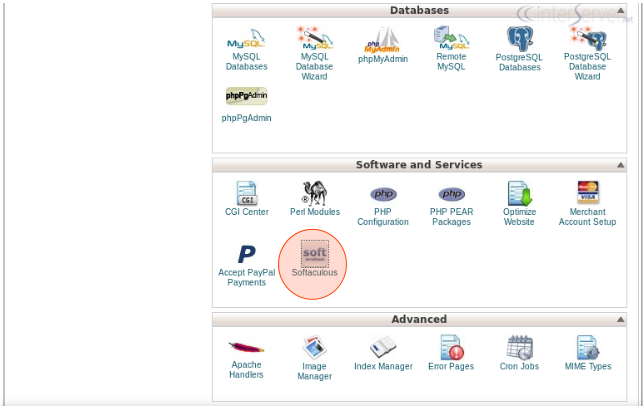 b) Click on WordPress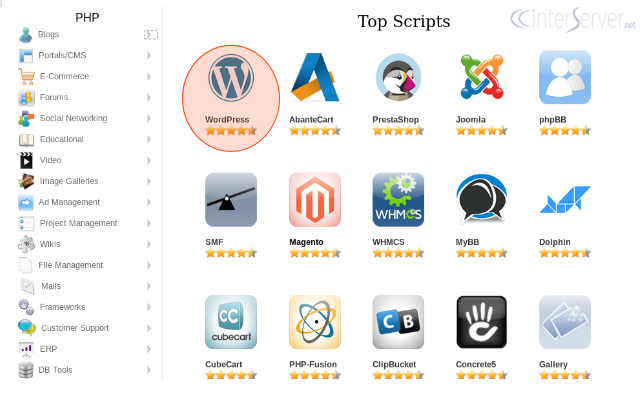 c) Install WordPress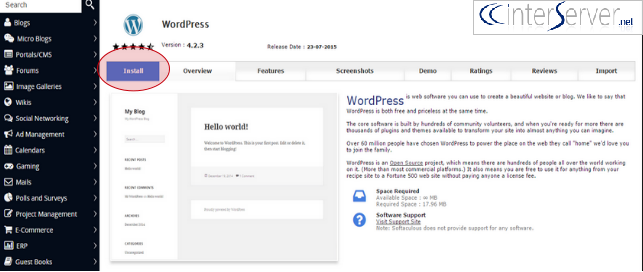 That's the basic set up. From there you can choose your theme, add plug-ins, write posts, create pages, and do all the other things you would want to do with a WordPress blog. Interserver has excellent customer support, and well written "knowledge base articles", so when you sign up with them you'll have all the help you need to get started.
Find Affiliate Programs
Once you have a blog set up, and you have started to fill it with content, you'll want to start exploring various affiliate programs. An affiliate program is a marketing strategy that companies use to enable you, a content creator, to get a cut of any sale that is made when a reader clicks on a link on your blog. For example, Amazon has an affiliate program where you add a link to a product on your site with a special code embedded in it, and if a user clicks on that link and buys that product, then you earn a commission. A couple of other websites that allow you to link to affiliate products include Commission Junction and ThinkGeek. A quick google search will reveal many other affiliate networks online. A fuller explanation of affiliate marketing is outside the scope of this article, but just understand that this is one way to earn money from your blog.
That's it, pretty simple, right? The sooner you get stared blogging, the sooner you can create great content, build a loyal reader base, and start working your way towards a passive income stream that can help offset the costs of the blog, and maybe generate some extra spending cash. So why not get started right now?
Don't forget to use coupon code "SAVEBIG" when you sign up for WordPress hosting at Interserver to get the first month of hosting for $.01.