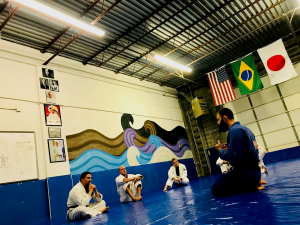 Scott Burr from the Fight Gym discusses Kuzushi (unbalancing an opponent) from the closed guard.  This is an important concept, not only because breaking an opponent's posture is important when they're in your guard, but also because doing so leaves you vulnerable to headbutts. I've almost received accidental headbutts when rolling from trying to break an opponent's posture when they are in my guard, so I can imagine in a real fight that a headbutt would be a real option for someone if they wanted to do some damage from that position.
Check out the details in the video below:
Scott Burr is a Jiu Jitsu Black Belt, Judo Black Belt, Steve Maxwell certified trainer and  a black belt in Kuk Sul Do. He is also the author of the novel "Bummed Out City".