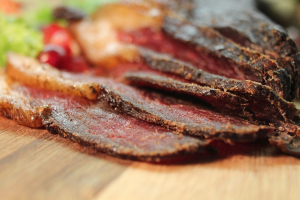 Dialing in nutrition is important for any athlete, and since jiu jitsu is such a physically demanding sport, your diet will determine your performance.
Protein seems to be one of those dietary sources we just can't get enough of. I know, I've heard the arguments that we over-inflate the importance of protein, and that it's likely that many of us get the necessary amount of protein in our diet without giving it any special consideration. But I find that I just feel better when I eat more animal-based protein. It boosts my energy, clears my brain fog and gives me more endurance. I also tend to recover from workouts better and grow stronger if I eat more protein.
Animal-based protein can be expensive and hard to find for a snack. Ever since experimenting with the carnivore diet, I've been trying to find easy snack ideas that include animal-based protein.
Protein snacks are actually relatively plentiful. Where I live, there are a few grocery stores that carry a pretty good selection of beef jerky, so that's a good start.