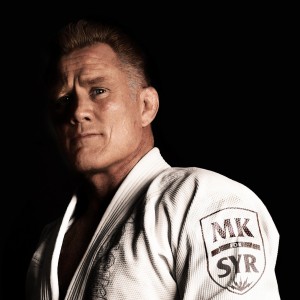 I just got back from a seminar put on by Chris Haueter at the Fight Gym in Chagrin Falls, Ohio. This is the second seminar I've attended with Haueter, and I said the same thing last time, I wouldn't miss a Chris Haueter seminar when he comes around. Both times that I've attended his seminars I've had several "ah-ha" moments, which totally makes the price of admission worthwhile.
This seminar we focused on the rear naked choke. We spent a little time in the beginning of the seminar after our warm up talking about how to control our partner when we have back control. Haueter spoke about the importance of controlling our partner's hips by pushing our hips right against their tail bone and using our legs to keep their hips pulled back into ours and to the ground. We spent some time with our partner trying to escape while we attempted to hold them in place. It was pretty amazing how much control we had this way, without even really needing to use our arms that much to control their upper body. Typically we're taught to get a seat belt grip to maintain control but by controlling their hips with our legs we didn't seem to need that grip to maintain control.
Once we had a grasp on how to control our opponent with minimal use of our arms we moved on to getting the rear naked choke. Haueter showed us how to move our arm in a similar fashion as cracking a whip to get it past our partners shoulders far enough to comfortably wrap our arm around their neck and into a proper choking position.  Understanding how to move our upper back and arm in the correct manner to get the appropriate distance to wrap the choke was a light bulb moment. We didn't focus a whole lot on finishing the choke, as once it's locked in it finishes pretty quickly anyways, but we did talk about how to break our partners grips when they are grabbing our arm trying to defend the choke, how to use our other arm to replace our choking arm to get a choke from the other side when one arm isn't doing the trick and how to transition from the rear naked choke, to a bow and arrow choke, and from there into an arm bar if needed.
Along with the technique Haueter cracked plenty of jokes, and generally made the seminar fun and exciting. If you've seen any of his stuff on YouTube you know he's a funny guy, and his seminars are interlaced with plenty of fun stories and jokes.
During the seminar I was fortunate enough to be paired up with a black belt from a neighboring school (Tony Reel from Gracie Orwell Ohio), and he was helping me get some of the finer details of the techniques as well as adding some details himself. I'm always grateful of the opportunity to work directly with black belts, as they seem to have a way to quickly fix any problem areas I'm having.
All in all it was a great seminar. I'm looking forward to the seeing Haueter the next time he comes into town.