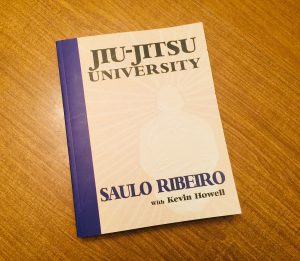 If you're anything like me (and approximately 100% of other jiu jitsu practitioners) you're always on the lookout for details to improve your game. YouTube is a great place to go, but I also like to do a deep dive through reading, and Jiu Jitsu University by Saulo Ribeiro offers a lot to learn.
Saulo Ribeiro has a black belt in Jiu Jitsu, Judo and has fought (and won) in MMA. He has won the World Jiu Jitsu Championship five times, and competed in Metamoris 4, where his match against Rodrigo Medeiros ended in a draw. He is co-owner (with his brother Xande Ribeiro) and instructor at The University of Jiu Jitsu which boasts over 50 affiliates world-wide.
Ribeiro's book "Jiu Jitsu University" divides techniques by belt rank.  He spends some time in the introduction describing what he believes to be the goal of each of the belts in jiu jitsu. I found this insight to be very helpful, understanding what a seasoned black belt thinks the focus of a particular belt should be serves to construct a road map in my mind of what to work on in my particular rank.
In each of the sections Saulo illustrates step by step  techniques that he thinks is relevant for the belt level. He goes into very clear detail as to how to execute these techniques, illustrates some common misconceptions about the technique to help you avoid the pitfalls, and occasionally suggests ways to drill so that the technique becomes second nature. As he says in the book "If you think, you are late. If you are late, you use strength. If you use strength, you tire. And if you tire, you die", so he emphasizes the importance of commiting the moves to muscle memory.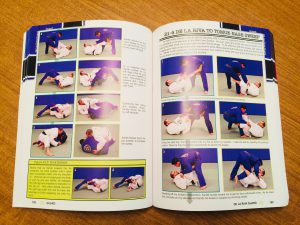 It is interesting that he divides the belt sections up into the following areas (in order):
White Belt (Survival)
Blue Belt (Escapes)
Purple Belt (Guard)
Brown Belt (Guard Passing)
Black Belt (Submissions)
What's revealing about this is the importance placed on ensuring that you can survive a match and gain position throughout all the belts until black, where you can really start to focus on submissions. I like that thought process. It's been my experience that the guys with great guards and who have the ability to escape bad positions are more confident with their submission attempts, because they know if they miss they can recover and get back to a safe place and start over.
There's a reason that Jiu Jitsu University is often ranked as one of the must have jiu jitsu books for your shelf. The information is insightful, and the production quality of the book is top notch. I find myself often flipping through the pages after class, looking for tips in the book on any technique or issue I may have encountered while rolling. The details and insight this book provides are very helpful, and it lays out a great road map for any practitioner. I definitely recommend picking up a copy of this book for your library.