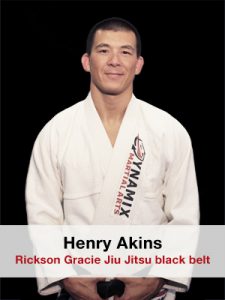 Henry Akins is a Jiu Jitsu black belt under Rickson Gracie. He has the distinct honor of being the 3rd American to receive a black belt under Rickson. While training at the Rickson Gracie Academy he worked as a secretary, instructor and even as a training partner for Gracie to help him prepare for his fights in Japan. He earned his black belt in 2004 and was the main instructor at Rickson's place until a back injury forced him to stop.
In 2010 he founded Dynamix Martial Arts with Antoni Hardonk. Henry maintains an active schedule not only teaching at Dynamix, but also travels the world teaching seminars, and has created an online site of paid video courses at HiddenJiuJitsu.com. A sub section of the Hidden Jiu Jitsu site houses a members only area, the Mind Blown Jiu Jitsu club, which features exclusive content, and gives members access to a Facebook Group where they have direct access to ask Henry questions, and discuss technique with other members of the group. Being a member myself I can attest to the availability of Henry to the members, and of his deep knowledge of jiu jitsu. He has stated that he wants his legacy to be to make Rickson's style of effective jiu jitsu accessible to everyone, and the content that he is publishing is serving him well to this end.
Henry's style of jiu jitsu is heavily fundamentals based. He has a knack for explaining details of techniques that may not be easily seen from merely watching a technique in action (thus the moniker "Hidden Jiu Jitsu"). I've experienced first hand how these details can change a technique from a low percentage, difficult technique, to one that is much more effortless and able to be hit a greater amount of the time. His scissor sweep details especially come to mind in this regard.
Henry Akins is deservedly well respected in the jiu jitsu community. He travels far and wide so that he's able to reach a large number of jiu jitsu practitioners. Countless people that I've talked to have stated that Akins' method of teaching was game changing for them, and I agree. If you ever have a chance to train with Henry, do yourself the favor and take it.