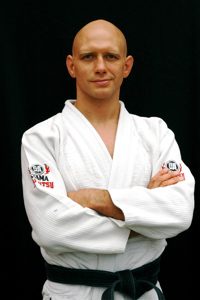 For anybody that has been around Jiu Jitsu for any length of time, chances are that they've stumbled across Stephan Kesting's site GrappleArts.com. On his site, Stephan hosts a wealth of grappling information. He has established himself as top-notch educator in the art of Jiu Jitsu.
A little bit about Stephan, in his own words:
"I'm a Brazilian Jiu-Jitsu black belt, and have been doing martial arts for over 30 years. I am also a certified instructor in Erik Paulson's Combat Submission Wrestling, a black belt in Kajukenbo Karate, an instructor in Dan Inosanto's Jun Fan JKD, Maphalindo Silat and Filipino Martial Arts program. I've also studied Japanese Judo, Russian Sambo, various Chinese Kung Fu systems, Brazilian Capoeira, Muay Thai Kickboxing, and many other martial arts." – Stephan Kesting – grapplearts.com
With a lineage like that it's no wonder that he's become such a well known name in the field of martial arts. To our good fortune he has published articles in various magazines, participated in podcasts, published e-books, filmed DVDs, created mobile apps, designed apparel and posts a very entertaining series of YouTube videos (you can check out his channel here: Stephan Kesting YouTube).
He recently teamed up with Jiu Jitsu great  Emily Wok to bring you the DVD series "How to Defeat the Bigger Stronger Opponent". This video series is aimed at the smaller jiujiteiro, providing details to masterfully leverage the techniques in jiu jitsu to help you overcome a much larger opponent.
He also teamed up with Brandon 'Wolverine' Mullins to bring you the second part of that video series, "How to Defeat the Bigger, Stronger Opponent with Brazilian Jiu-Jitsu Series 2".
Stephan Kesting is one of those rare individuals who has not only excelled at this art form, but has given back immensely to the community at large. If you haven't had a chance to check out his stuff, do yourself a favor and dig in.
I'll leave you with this humorous video from the man himself: